Need free animations? You'll find free animations for use on your personal home pages.

Join the fun and share information about resources for PhotoImpact. Along with the Animation Forum, there are the Challenge and WET Forums as well as a few non-PI forums.

The original resource center where you'll find the largest collection of resources for PhotoImpact Users on the entire net. There is also an up to date searchable database for tutorials, a list of new tutorials by date, PI User buttons, and info about our very active chat room.
Learn Gif Animator 5! Course offered at the School of Creative Arts. Sign up today!

Learn PhotoImpact 6, 7 and 8 in a structured, yet relaxed atmosphere. Courses are being offered at the School of Creative Arts. Enroll now!
Ulead PhotoImpact 8 and Gif Animator 5. You'll find tutorials at Ulead for PhotoImpact and Gif Animator.
Jason Dunn's Photoimpact Solutions book and PI6 Resource kit are available at Muska & Lipman. Photo Solutions is a complete guide for PhotoImpact 6. It covers creating gif animations and has a complete chapter on the GIF Animator 4.0.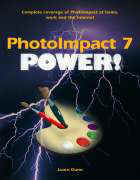 Jason Dunn and James Rodel's PhotoImpact 7 Power! The first book published on PhotoImpact 7 which gives a complete guide to PhotoImpact 7. A complete guide to PhotoImpact 7, covers Web graphics, Web development, print applications, and presentations. Learn how to use the latest features in version 7 and become a true power user. The print edition includes 16 full-color pages that show you the range PhotoImpact and your creativity can take you. Technically edited by Ulead. Muska and Lipman Publishing.